Black beans soup with avocado
2 tbsp. extra-virgin olive oil
1 medium red onion, finely chopped
Freshly ground black pepper
3 (15-oz.) cans black beans, with liquid
1 qt. low-sodium chicken or vegetable stock
Sliced avocado, for garnish
Chopped fresh cilantro, for garnish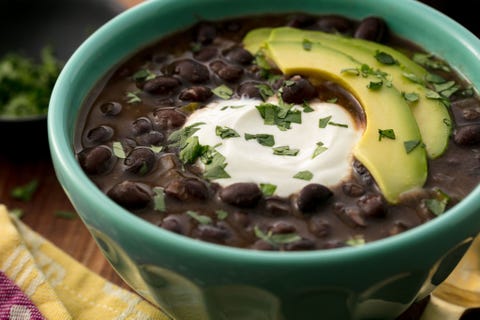 METHODS :
In a large pot over medium heat, heat oil. Add onion and cook until soft and translucent, about 5 minutes. Add jalapeños and garlic and cook until fragrant, about 2 minutes. Add tomato paste, stir to coat vegetables, and cook about a minute more. Season with salt, pepper, chili powder, and cumin and stir to coat.
Add black beans with their liquid and chicken broth. Stir soup, add bay leaf and bring to a boil. Immediately reduce to a simmer and let simmer until slightly reduced, about 15 minutes. Remove bay leaf.
Using an immersion blender or food processor, blend the soup to desired consistency.
Garnish with a dollop of sour cream, sliced avocado, and cilantro.