Buffalo Shrimp Lettuce Wraps
1/4 c. hot sauce, such as Frank's
1 tbsp. extra-virgin olive oil
1 lb. shrimp, peeled and deveined, tails removed
Freshly ground black pepper
1 head romaine, leaves separated, for serving
1/4 red onion, finely chopped
1 rib celery, sliced thin
1/2 c. blue cheese, crumbled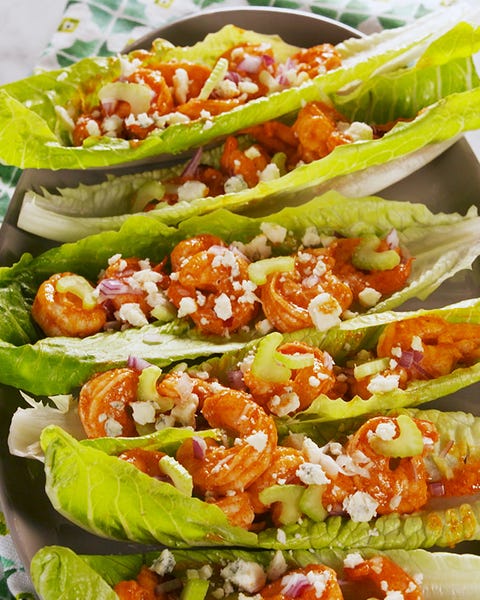 1. Make buffalo sauce: In a small saucepan over medium heat, melt butter. When melted completely, add garlic and cook until fragrant, or for about 1 minute. Add hot sauce and stir to combine. Turn heat to low while you cook the shrimp.
2. Make shrimp: In a large skillet over medium heat, heat oil. Add shrimp and season with salt and pepper. Cook, flipping halfway, until pink and opaque on both sides, about 2 minutes per side. Turn off heat and add the buffalo sauce, tossing to coat.
3. Assemble wraps: Add a small scoop of shrimp to the center of a romaine leaf, then top with red onion, celery, and blue cheese. Serve immediately.