Crock-Pot broccoli chicken soup
1 lb. boneless skinless chicken breasts
3/4 lb. peeled baby potatoes, cut into1/4" cubes
1 large head of broccoli, cut into small florets
Freshly ground black pepper
1 1/2 c. shredded Cheddar, plus more for garnish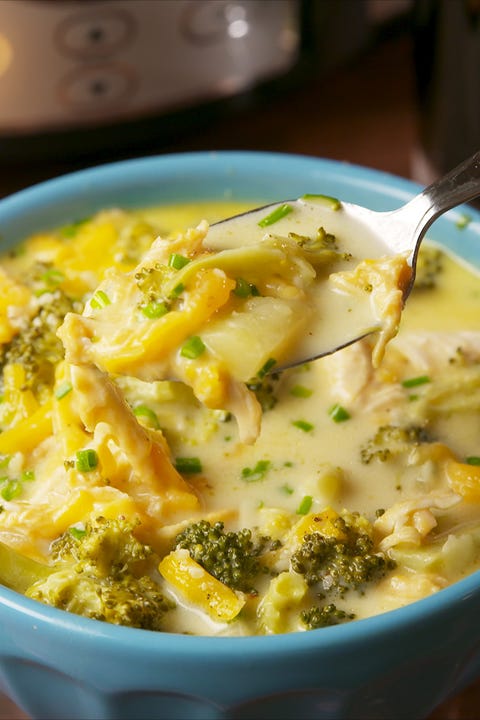 1. Combine chicken breasts, chicken broth, potatoes, broccoli and onion in the bowl of a Crock-Pot. Season with salt and pepper and stir.
2. Cover pot and cook on low for 5 to 6 hours, until the chicken is cooked through.
3. Remove chicken from Crock-Pot and transfer to a large bowl. Using two forks, shred into bite-size pieces.
4. In a medium bowl, whisk together flour and cream. Pour mixture into Crock-Pot and stir to combine. Return chicken to Crock-Pot and add cheddar and Parmesan. Turn heat to high, cover and cook for 30 minutes more, or until the cheese has melted and the soup has thickened.
5. Taste for seasoning and add more salt and pepper if necessary.
6. Ladle into soup bowls and serve immediately. Garnish with sour cream and more cheese.