Fried salmon with lemons
4 (6-oz.) salmon fillets, patted dry with a paper towel
Freshly ground black pepper
2 tbsp. extra-virgin olive oil
Juice of 1 1/2 lemons, divided
1 lemon, cut into rounds, for serving
2 tbsp. freshly chopped dill, for garnish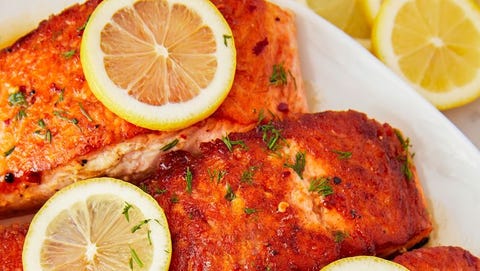 In a large skillet over medium-high heat, heat oil. When oil is hot but not smoking, add salmon skin-side up and season with salt and pepper. Cook salmon until deeply golden, about 6 minutes, then flip over.
Add wine, juice of 1 lemon, garlic, and red pepper flakes. Bring to a simmer and cook, basting salmon occasionally with a spoon. When salmon is opaque, remove from skillet. Add butter and remaining lemon juice to pan and whisk to combine with the sauce. Let simmer until thickened slightly, 2 minutes.
Drizzle with pan sauce and topped with fresh lemon slices and dill.