Pineapple Shrimp Skewers
1 lb. shrimp, peeled and deveined
3 tbsp. extra-virgin olive oil
3 tbsp. sweet chili sauce
2 tsp. freshly grated ginger
2 tsp. toasted sesame oil
crushed red pepper flakes
1/2 tsp. crushed red pepper flakes
kosher salt
toasted sesame seeds, for garnish
thinly sliced green onions, for garnish
lime wedges, for serving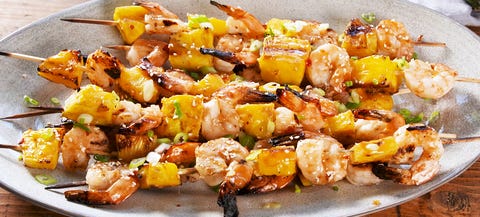 1.
Preheat grill to medium heat and place wooden skewers in water to soak. Alternate skewering pineapple and shrimp until all are used, then place on a large baking sheet.
2.
In a medium bowl, combine olive oil, chili sauce, garlic, ginger, sesame oil, and red pepper flakes and season with salt. Whisk until combined and brush all over skewers.
3.
Place skewers on grill and cook, flipping once, until shrimp is cooked through, 4 to 6 minutes total.
4.
Garnish with sesame seeds and green onions, ready to serve.