Potato-Kale Soup With Crispy Chorizo
3 tbsp. extra-virgin olive oil
4 medium shallots, sliced
4 large stalks celery, sliced
3 medium russet potatoes (about 1 3/4 lbs.), peeled and cut into 1/2" chunks
2 oz. Spanish chorizo, finely chopped
4 c. packed chopped kale leaves (about 4 oz.)
1 tbsp. fresh lemon juice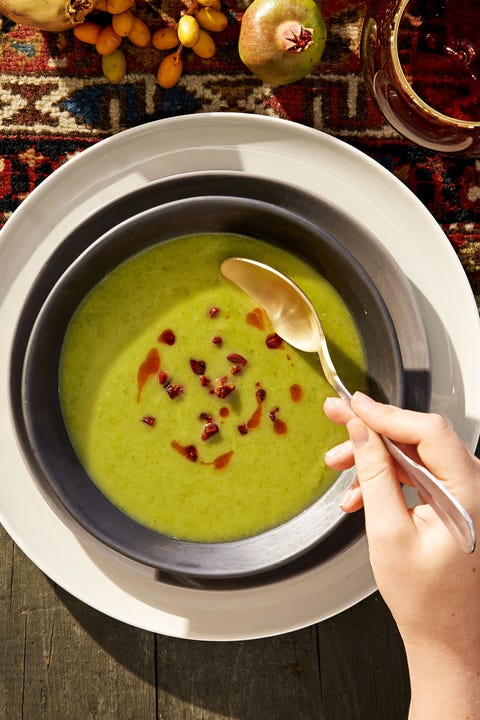 1. In 5- to 6-quart saucepot, on medium, combine 2 tablespoons oil, shallots, celery, and 1/2 teaspoon salt; cook 10 minutes or until shallots have browned, stirring occasionally. Add broth and potatoes. Heat to simmering on high. Reduce heat; simmer 20 minutes or until potatoes are very tender, stirring occasionally.
2. Meanwhile, in 10" skillet, on medium, combine chorizo and remaining 1 tablespoon oil; cook 8 minutes or until fat has rendered and chorizo is crisp, stirring frequently. Set aside.
3. When potatoes are tender, add kale to pot. Simmer 5 minutes. In batches in blender or with immersion blender, puree soup until smooth; return to pot. Stir in lemon juice and 1/2 teaspoon pepper. To serve, garnish with chorizo oil mixture.