Raspberry brownie bites
Ingredients
For the brownie bites:
½ cup unsalted butter
3 ounces (½ cup) bittersweet chocolate chips
¾ cup coconut palm sugar (or granulated sugar)
1 teaspoon vanilla extract
½ cup unsweetened cocoa powder
⅓ cup white whole wheat flour
½ teaspoon salt
¼ teaspoon baking powder
3 large eggs
24 fresh raspberries
For the ganache:
2 ounces (heaping ⅓ cup) bittersweet chocolate chips
¼ cup heavy cream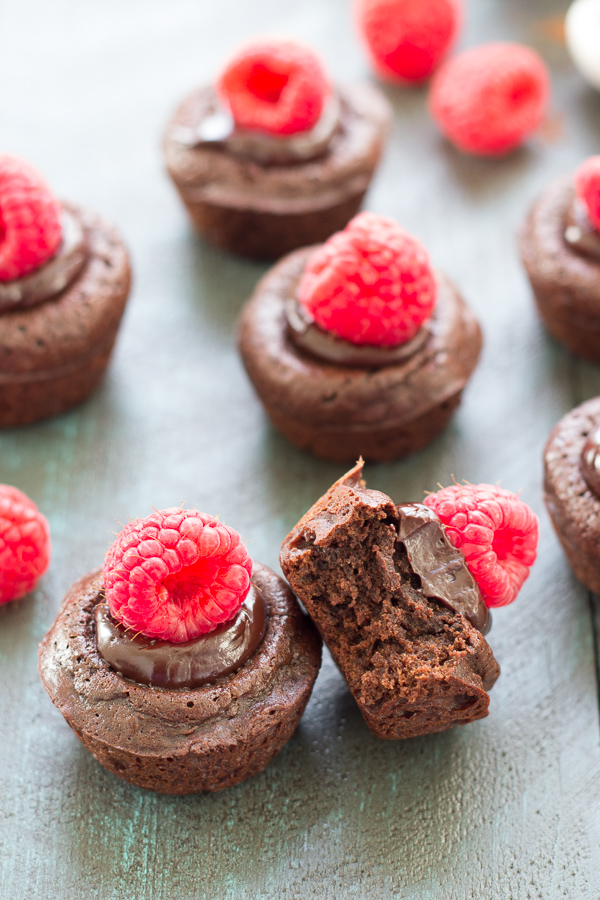 Methods
Preheat oven to 350 degrees F. Spray a mini muffin tin with nonstick spray.
In a small saucepan, melt the butter and then stir in the 3 ounces chocolate chips until melted. Pour the mixture into a medium bowl. Stir in the sugar and vanilla and set aside to cool slightly.
Meanwhile, whisk together the cocoa powder, flour, salt, and baking powder.
Whisk the eggs into the melted chocolate mixture until the mixture is smooth and shiny. Add the cocoa/flour mixture to the bowl and use a rubber spatula to mix until just incorporated. Do not overmix.
Scoop the batter into the muffin tin wells
Bake for 9-11 minutes, until a toothpick inserted into the center of a brownie comes out with just a few small crumbs attached. Use a teaspoon to press down the center of each brownie to make a small well. Let cool in the pan for 3 minutes before using a small rubber spatula to gently remove the brownies to a wire rack to cool.
While the brownie bites cool, make the ganache. Place the chocolate chips in a small bowl. Heat the heavy cream in a small saucepan until it begins to boil. Pour hot cream over chocolate chips and let stand for 30 seconds; stir until chocolate melts and mixture is smooth. Spoon ½ teaspoon ganache onto top of each brownie bite and top with a fresh raspberry.