Salmon coconut soup
2 tbsp. coconut oil, divided
4 (6-oz.) skinless salmon fillets, patted dry
1 tsp. kosher salt, divided
1 1/2" piece ginger, grated
1 (13.66-oz.) can Thai Kitchen coconut milk
1 tbsp. fresh lime juice, plus lime wedges for serving
2 tbsp. chopped fresh basil
1 Fresno chili, seeded and chopped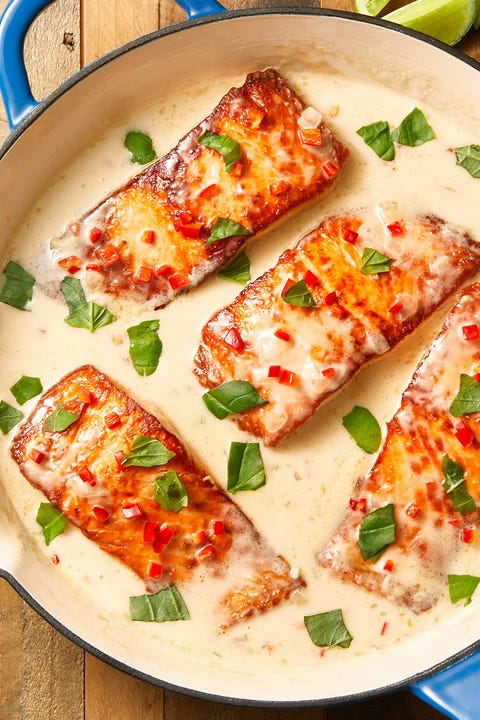 In a large cast-iron skillet, heat 1 tablespoon oil over medium-high heat. Season the salmon with ½ teaspoon salt. When oil is hot but not smoking, add salmon skin side up. Let sit undisturbed until golden and salmon easily releases from pan, about 4 minutes. Use a thin metal spatula, flip salmon and cook until golden on the other side, about 2 minutes more. Remove to a plate.
Reduce heat to medium and add remaining tablespoon oil and onion to skillet. Cook, stirring occasionally, until softened, 2 minutes. Add garlic and ginger and then cook, stirring, until fragrant, 1 minute.
Stir in coconut milk and bring to a simmer. Cook, stirring occasionally, until thickened, 5 minutes. Stir in lime juice and remaining ½ teaspoon salt
Remove from heat and return salmon to pan. Garnish with basil and Fresno chili, and serve immedietly with lime wedges.