Salmon piccata
Freshly ground black pepper
1/2 c. plus 2 tbsp. all-purpose flour, divided
2 tbsp. finely chopped sun-dried tomatoes
2 tbsp. freshly chopped parsley, for garnish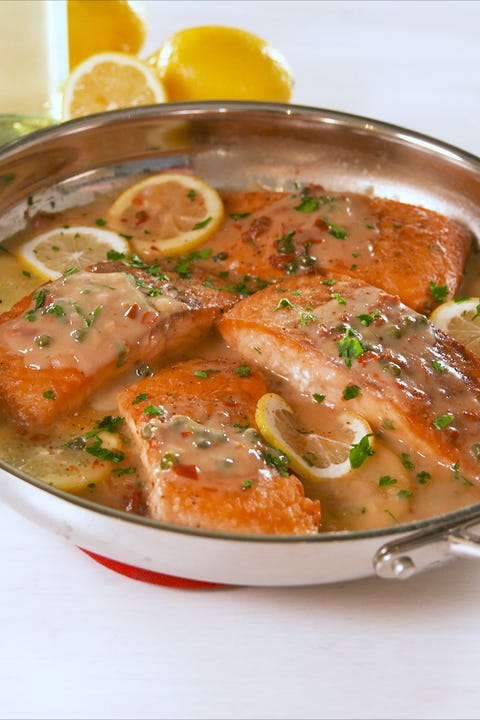 1. Season salmon fillets with salt and pepper and dredge in flour, shaking off any excess flour.
2. In a large skillet over medium heat, heat olive oil. Sear salmon until golden on both sides, 4 to 5 minutes a side. Transfer salmon to plate and tent with foil to keep warm while making sauce.
3. Melt butter in pan and stir in garlic. Cook until fragrant, for about 1 to 2 minutes, then stir in flour. Cook 1 to 2 minutes more, until lightly golden in color and bubbling slightly. Slowly whisk in wine to deglaze, scraping up any brown bits left on the bottom of the pan. Whisk in chicken stock and bring to a simmer and cook until thickened slightly, 4 to 5 minutes. Stir in lemon juice, lemon slices, capers, and sun-dried tomatoes and season with salt and pepper.
4. Return salmon to pan and let simmer in the sauce. Spoon sauce over salmon and let cook 3 to 4 minutes more. Garnish with parsley.