Salmon with Skyr and Sauteed Kale
12 oz. wild mushrooms, sliced
1 bunch kale, trimmed and chopped
4 skinless salmon fillets (about 5 oz. each)
1/2 c. skyr (Icelandic yogurt)
1 tbsp. prepared horseradish, drained
1 green onion, finely chopped, plus more for garnish
2 tsp. spicy brown mustard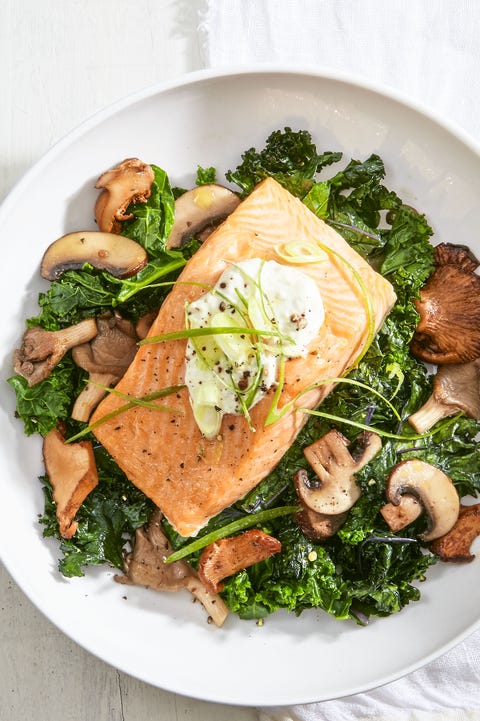 1. Arrange oven rack 6 inches from broiler heat source. Preheat broiler.
2. In 6-quart saucepot heat oil on medium-high. Add mushrooms and 1/2 teaspoon salt. Cook 5 minutes or until beginning to soften. Add kale and cook 5 to 7 minutes or until stems are tender, stirring occasionally.
3. Meanwhile, arrange salmon on foil-line baking sheet; sprinkle with 1/4 teaspoon each salt and pepper. Broil 6 to 8 minutes or until cooked.
4. Stir together skyr, horseradish, green, onion, mustard and 1/8 teaspoon salt. Serve salmon over greens, topped with yogurt sauce. Garnish with additional green onions if desired.