Ruby Red Grapefruit Tartlets
1 c. plus 2 Tbsp (2 1/4 sticks) unsalted butter, at room temperature
1/2 c. confectioners' sugar
1 tsp. pure vanilla extract
1 c. plus 2 Tbsp granulated sugar
6 tbsp. all-purpose flour
1 1/2 tbsp. finely grated ruby red grapefruit zest plus 1 1/2 cups juice (from 3 grapefruits)
1/4 tsp. pure vanilla extract
Chopped ruby red grapefruit, for serving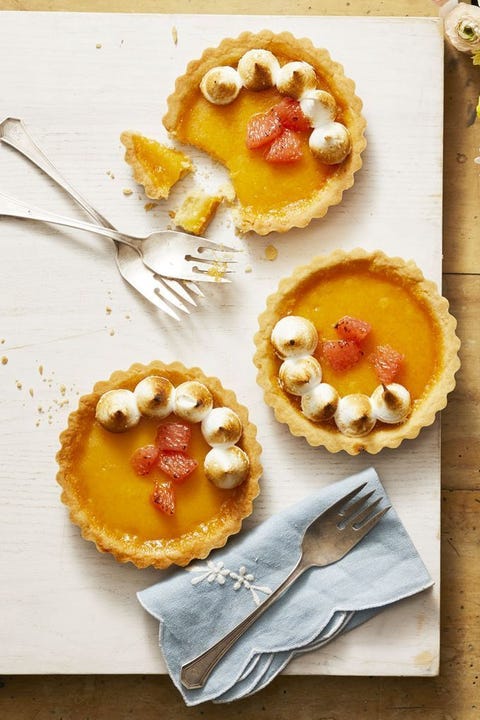 1.
Make crust: Using electric mixer, beat butter, confectioners' sugar and salt in large bowl until light and fluffy, about 3 minutes; beat in vanilla. Reduce speed, add flour and mix until just combined.
2.
Divide dough in half and roll each half between 2 pieces of parchment to 1/8 inch thick. Cut each piece in half and fit into bottom and up sides of two 4-inch tart pans with removable bottoms. Poke bottoms with fork and refrigerate until firm, 15 to 20 minutes. Repeat, rerolling scraps of dough if necessary and fitting into 4 more tart pans for a total of 8.
3.
Heat oven to 400°F. Place tart pans on 2 rimmed baking sheets and bake tart shells until beginning to turn light golden around edges, 8 to 10 minutes. Let cool. Lower oven temp to 325°F.
4.
Make filling: In large bowl, whisk together sugar, flour, cornstarch and salt. Add egg yolks and grapefruit zest and juice and whisk to combine. Divide among tart shells and bake until set, rotating positions of sheets on racks halfway through, 20 to 25 minutes. Let cool to room temp, then refrigerate until chilled, at least 3 hours or up to overnight.
5.
When ready to serve, make topping: In large metal or glass bowl, whisk together egg whites, sugar and cream of tartar. Set bowl over saucepan of simmering water (without touching water) and cook, whisking constantly, until sugar has dissolved and egg whites are very warm to the touch, 2 to 3 minutes. Remove from heat and, using electric mixer, beat on low speed, gradually increasing speed to high, until stiff, glossy peaks form, about 6 minutes. Beat in vanilla.
6.
Top tarts with chopped grapefruit and spoon or pipe on meringue (there will be leftover meringue). Lightly torch to brown meringue if desired.