White Chocolate Raspberry Thins
2 1/2 c. freeze-dried raspberries
2 1/2 c. all-purpose flour
1 c. (2 sticks) unsalted butter, at room temp
1 1/2 tsp. pure vanilla extract
Melted white chocolate, for drizzling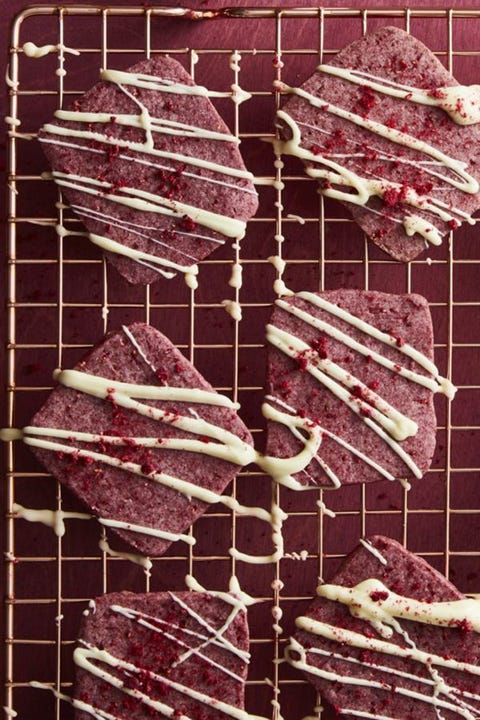 1.
In food processor, finely grind freeze-dried raspberries (you should have scant 1/2 cup).
2.
In large bowl, whisk together flour, baking powder, raspberry powder, and salt.
3.
In another large bowl, using electric mixer, beat butter and sugar until light and fluffy, about 3 minutes. Beat in egg and then vanilla.
4.
Reduce mixer speed to low and gradually add flour mixture, mixing just until incorporated. Shape dough into two 2-inch-square logs. Wrap and freeze for 20 minutes.
5.
Heat oven to 350°F. Line baking sheets with parchment paper. Slice into 1/8-inch-thick squares. Place on prepared sheets.
6.
Bake, rotating positions of baking sheets halfway through, until cookies are light golden brown around edges, 10 to 12 minutes. Let cool on sheets 5 min. before transferring to wire racks to cool completely.
7.
Drizzle with melted white chocolate and sprinkle with crushed freeze-dried raspberries.