Healthy Greek Chicken and Farro Salad
·
1 1/4 cup quick-cooking farro
·
1/2 small red onion, thinly sliced
·
12 oz boneless, skinless chicken breasts, sliced ½ inch thick
·
1/4 cup fresh dill, chopped
·
8 oz grape tomatoes, halved
·
1/2 seedless cucumber, cut into ½-inch pieces
·
3 oz baby arugula (about 3 cups)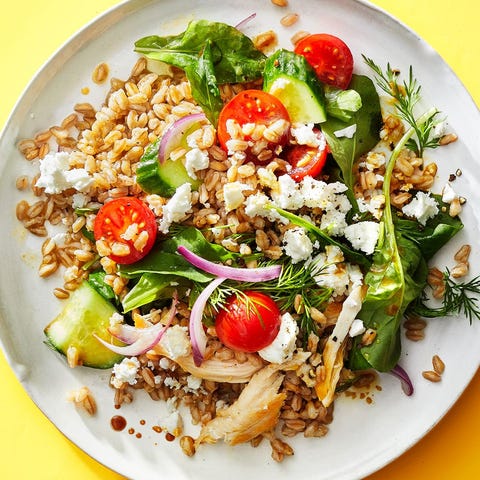 1. Cook farro per package directions, then drain, transfer to a large bowl, and toss with 1 Tbsp oil.
2. Meanwhile, in a bowl, toss onion with 2 Tbsp lemon juice and a pinch of salt. Let sit, tossing twice.
3. Heat remaining Tbsp oil in a large skillet on medium-high. Season chicken with ¼ tsp each salt and pepper and cook until golden brown, 8 to 10 minutes.
4. Remove the skillet from heat and stir in remaining 2 Tbsp lemon juice.
5. Add chicken and any juices to farro along with dill, tomatoes, cucumber, and onion (and their juices); toss to combine. Fold in arugula and feta.
Per serving: 380 calories, 10 g fat (1.5 g sat), 26 g protein, 198 mg sodium, 44 g carb, 4 g sugar (0 g added sugar), 7 g fiber