Shaved Zucchini Salad
·
2 medium zucchini, ribboned
·
1 cup halved cherry tomatoes
·
2 Tbsp pitted and chopped Kalamata olives
·
2 Tbsp diced feta cheese
·
1 Tbsp pine nuts, toasted
·
1½ Tbsp extra virgin olive oil
·
½ Tbsp apple cider vinegar
·
½ Tbsp balsamic vinegar
·
¼ tsp freshly ground black pepper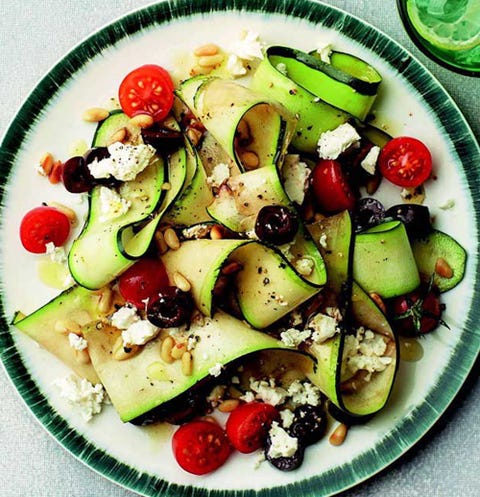 1.
Combine oil, vinegars, garlic, and pepper in a small jar and set aside.
2.
Add zucchini, tomatoes, olives, feta, and pine nuts in a bowl. Pour dressing over vegetables and cheese, toss to coat, and serve.
Per serving: 430 cal, 35 g fat (7 g sat), 26 g carbs, 15 g sugar, 610 mg sodium, 6 g fiber, 10 g protein.