Juicy Oven Baked Chicken Breast Recipe
This Juicy Oven Baked Chicken Breast Recipe is ultra tender every time thanks to these tips and tricks I'm sharing with you!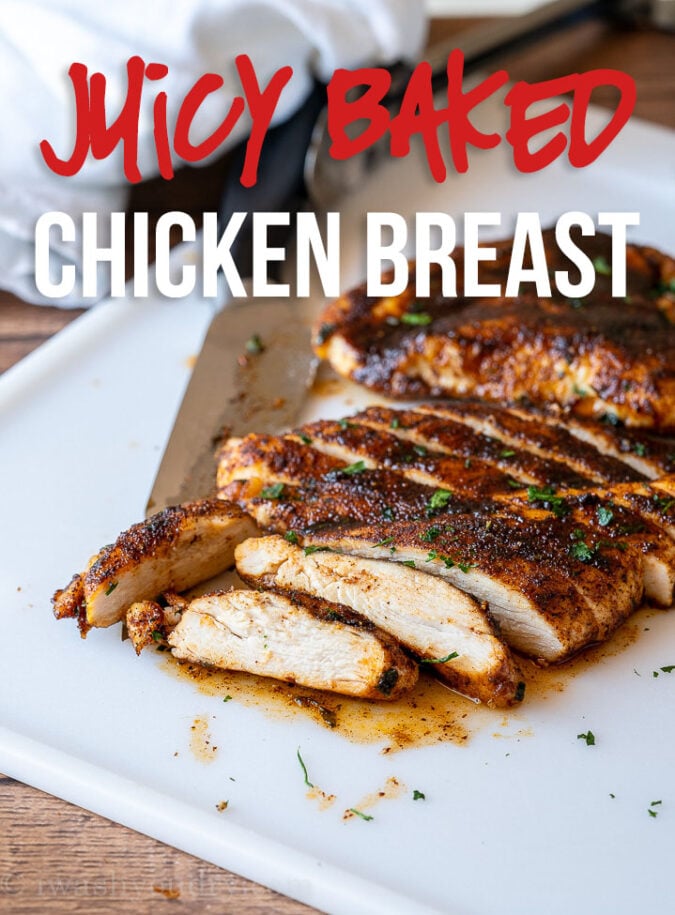 Say goodbye to boring, bland and dried out baked chicken breasts.
Yes, it's true, you CAN have tender and juicy white meat chicken that's BAKED in the oven!
Oven Baked Chicken Breast Recipe
Start by using a heavy rolling pin or meat mallet to pound your chicken breast to an even thickness.
Season liberally with my special seasoning blend (in the recipe card below).
Bake for just 20 minutes, then let rest for 5 minutes under foil before slicing.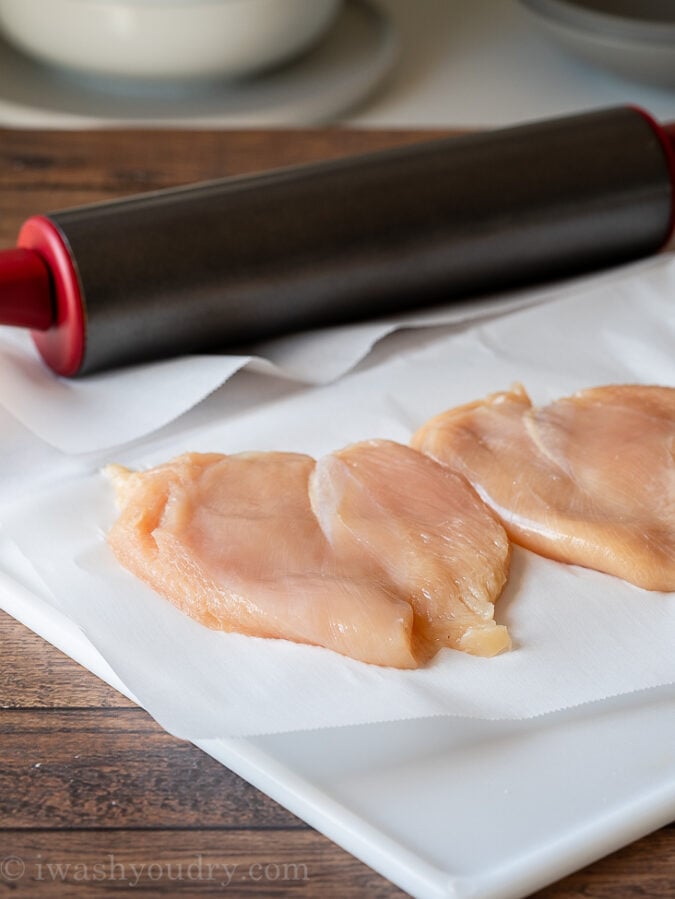 How To Get Juicy Baked Chicken
Is it really necessary to pound the chicken breasts to an even thickness before baking? Yes, it is absolutely necessary if you want juicy chicken. Here's why…
The natural shape of a chicken breast is teardrop, with a thicker, meatier portion at the bottom of the teardrop. Chicken must be cooked to 165 degrees F before safely consuming. If you do not pound the chicken down, the thicker portion will take longer to cook to the safe temperature, while the thinner section of chicken breast will get overcooked and result in a dried out, choke-it-down chicken breast.
Do yourself a favor and pound the chicken.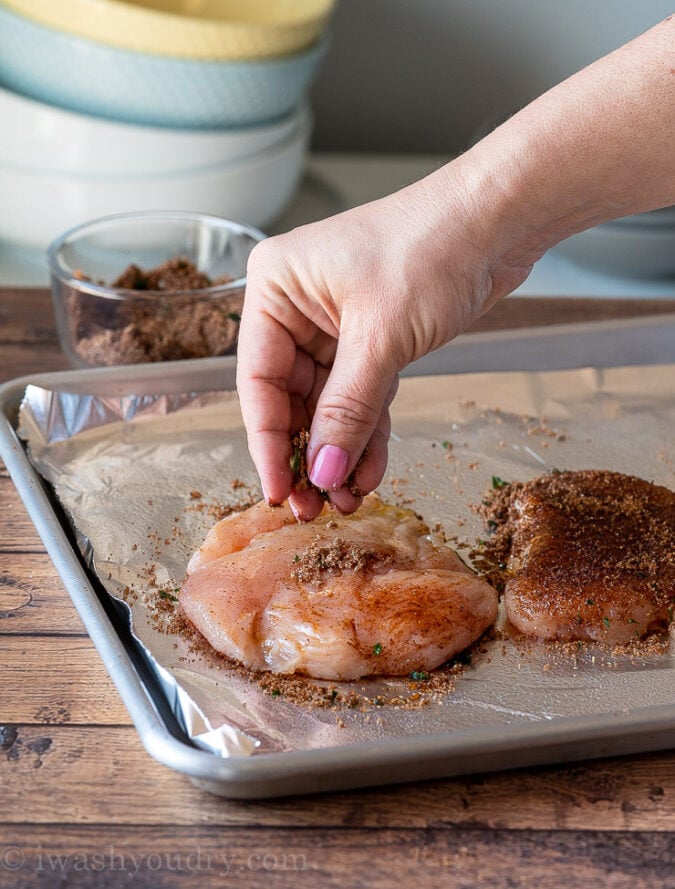 The Perfect Chicken Seasoning Blend
I'm sure you could season your chicken breasts with just salt and pepper and they would still come out fine, but this blend of spices will take your baked chicken to the next level.
Brown Sugar – the sugar helps to tenderize the chicken, trust me, it's a good idea.
Chili Powder – adds a delicious smoky flavor, plus gives great coloring to chicken
Parsley – great for adding a balanced herb flavor
Salt – the seasoning of life
Pepper – because it goes with salt
Garlic Powder – adds delicious flavor
Onion Powder – compliments the garlic powder
Cumin – this really gives the chicken something special
Combine the spices together and rub generously into the chicken breast before baking.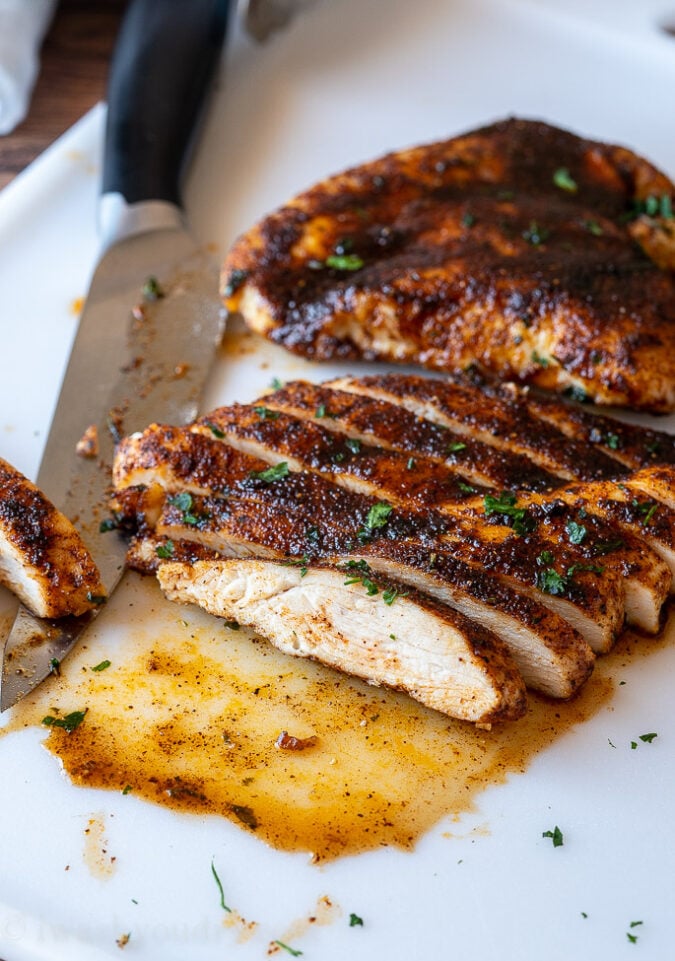 How Long To Bake Chicken Breast?
Since we're not going to sear chicken in a skillet before finishing of in the oven, you'll want to start your chicken at a high temperature in the oven.
Make sure your oven is preheated to 425 degrees F before baking. Cooking at a high temperature will help to lock in those juices, resulting in tender, juicy chicken every time.
4 to 6 ounce chicken breasts – 18 minutes
7 to 8 ounce chicken breasts – 20 minutes
9 ounce and above – 22 minutes
Remember to use a meat thermometer to check for an internal temperature of 165 degrees F. Let chicken breasts rest for 5 minutes under a loose sheet of foil before slicing.
More Baked Chicken Breast Recipes
Broccoli Cheese Stuffed Chicken Breasts
Salsa Chicken and Rice
Chicken Caprese Skillet
I'm confident that you'll get fantastic results with this recipe as long as you follow the tips and method I've shared here.
Author: Shawn
Prep Time: 5
Cook Time: 20
Total Time: 25 minutes
Yield: 4 to 6 1x
Category: Dinner
Method: Baked
Cuisine: American
INGREDIENTS
4 (7 to 8 oz) boneless, skinless chicken breasts
2 tsp olive oil
3 tbsp brown sugar
1 tbsp chili powder
1 tsp parsley flakes
1/2 tsp salt
1/2 tsp black pepper
1/2 tsp garlic powder
1/2 tsp onion powder
1/2 tsp cumin
INSTRUCTIONS
Pre heat oven to 425 degrees F. Line a baking sheet with foil and spray with non stick spray.
Place the chicken breasts between two sheets of parchment paper and pound to an even thickness. Drizzle both sides of chicken with olive oil.
Combine seasonings and sprinkle generously over both sides of the chicken breasts. Bake for 20 minutes. Remove from oven and cover loosely with foil for 5 minutes before slicing. Enjoy!
NOTES
If your chicken breasts are smaller in size, reduce the cook time to 18 minutes. If the chicken breasts are larger, increase cook time to 22 minutes. Check that internal temperature reaches 165 degrees.