THE BEST BAKERY-STYLE PUMPKIN CHOCOLATE-CHIP COOKIES
Super big, chewy and soft, muffin-top like pumpkin chocolate-chip cookies that taste like they are straight from a bakery! These bakery-style pumpkin cookies are made in ONE bowl!
Several months ago, being the very mature daughter that I am, I told my dad that "someone" said he looked like an owl. (Their natural response is supposed to be "Who?!" and you laugh to yourself as that person is making an owl sound.) Except it didn't quite work like that. At first he just kind of ignored me and chuckled quietly about it.
A few minutes later, after some obvious deep contemplation, he said, "Did they say that because they think I am wise?"
I suppose that is what I get for trying a grade-school joke out on my very literal father.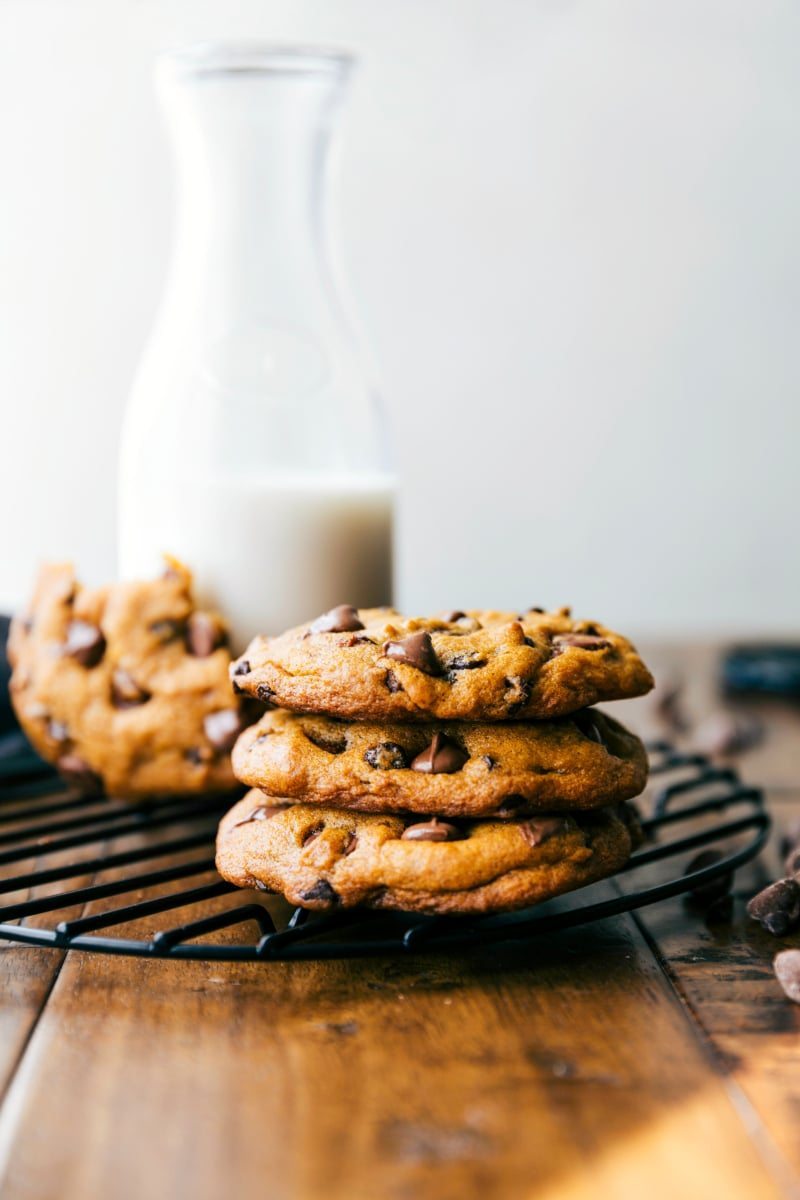 He just had a birthday this past week and it was great to celebrate him. My boys are especially crazy about their "Papa" as he's all jokes, wrestling, tickling, and way too much fun.
The toddler blew out his Papa's candles on his birthday cake because he's the kind of guy that gets more excited about others being happy than he is ever worried about his own happiness. And, we were all very grateful that my mom used two number candles instead of using up 3 boxes of candles and having us all wait while my toddler blew air/spit (mostly spit) all over the cake. With only 2 candles, the spit is definitely minimized.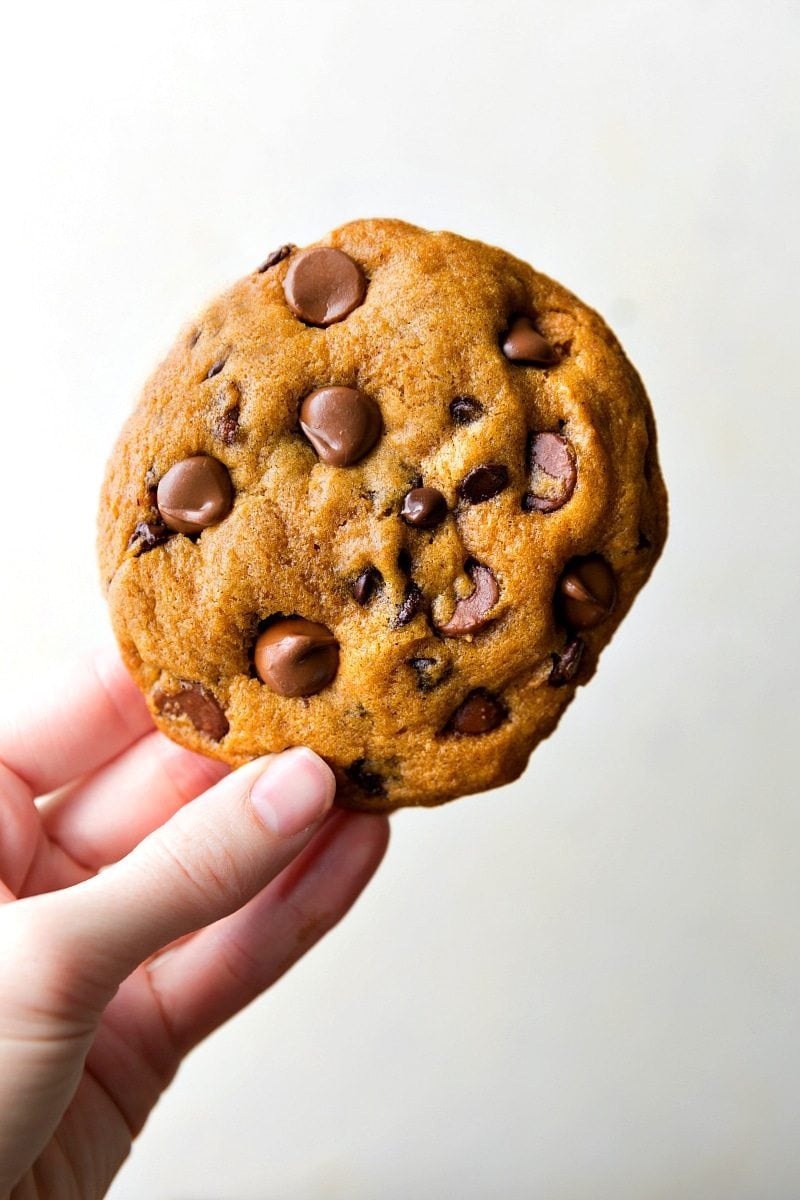 I wish I could nicely transition talking about my dad and his birthday into this recipe and these cookies by telling you that they are his favorite or that we made them together growing up, but neither is true. And while he does love pumpkin cookies, he'd pick oatmeal cookies over pumpkin any day. And baking? Never with my dad. He was more of the dutch oven, camp-fire cooking kind of guy.
So, with that said, here's my non-existent transition into telling you about these cookies. Last year, I shared "non-cakey" pumpkin cookies. If you are craving a solid cookie texture with the flavors of pumpkin pie spice, THIS is your recipe. These cookies however, are quite cakey. They are thick, chewy, soft, and resemble a muffin top.
These are similar to the pumpkin cookies my mom made growing up and while some would argue they aren't technically cookies, they are one of my favorite Fall treats. And now my family's as well.
The toddler has been OBSESSED with these cookies. He loves their color, the process of making them, and most especially the taste. And I love hearing him say pumpkin cookies because it sounds more like, "putt-in chuchies."
Prep Time
20 mins
Cook Time
12 mins
Chill Dough
1 hr
Total Time
32 mins
Course: Dessert
Cuisine: American
Servings: 18 cookies
Ingredients
1 CUP canned pumpkin, not an entire can
1 cup white sugar
1/4 cup brown sugar, lightly packed
1/2 cup vegetable oil
1 large egg
1 tablespoon vanilla extract
1 teaspoon ground cinnamon
1 teaspoon pumpkin pie spice*
2 teaspoons baking powder
1 teaspoon baking soda
1/2 teaspoon salt
2 cups white flour
1 cup semi-sweet miniature chocolate chips
1 and 1/3 cups milk chocolate chips, separated
Optional: red food dye
Instructions
In a large bowl, add in ONE CUP of canned pumpkin (not pumpkin pie filling and not an entire can of pumpkin), white sugar, brown sugar, vegetable oil, the egg, and vanilla.
Beat until completely smooth. If desired add in the food dye. This gives the darker more "pumpkin looking" cookie. These photos are of dyed cookies.
Without stirring in between these additions, add in the cinnamon, pumpkin pie spice, baking powder, baking soda, salt, flour, and both types of chocolate chips (1 cup of the milk chips).
Now with everything layered on top, beat together all of the ingredients until *just* combined.
Cover tightly and chill the dough for at least one hour up to 10 hours. Chilling is not necessary but it gives you the bigger pumpkin bakery-style cookies.
When ready to bake, preheat the oven to 350 degrees F and line a large tray with parchment paper or a silpat liner. Place 6 mounds of the dough on the cookie sheet. Scoop the dough to make a higher ball dough rather than a wide ball of dough. Use about 3 tablespoons to 1/4 cup dough to get the large bakery style cookies.
Don't do more than 6 cookies or they will run together.
Bake for 12-15 minutes (slightly under-bake for best results of getting a soft and chewy cookie) and remove. Use the remaining 1/3 cup of chocolate chips to place on the cookies right out of the oven if desired.
For a fudgy pumpkin pie type cookie, chill the cooked cookies in the fridge -- delish!
These cookies have a more developed pumpkin flavor by the second day or after chilling.

Recipe Notes

*We like a mild amount of spice in these pumpkin cookies. If you like lots, use another teaspoon of pumpkin pie spice or an additional 1/4 teaspoon nutmeg and 1/8 teaspoon ground cloves.